Birthday Cheers for Mara!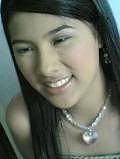 April 15, a special day for my bestfriend, Carmina Mara Yuson- Racela. And, in her special day, I want to greet her a Happy, Happy, Happy 16th Birthday! Uy! Sweet 16 na siya! Don't worry. I'll follow. But for now, I'd like to give you my birthday wishes, only for you!

16 Birthday Wishes…and my TIPS



I wish that…

1. Of course, you'll have MORE Birthdays to come…TIP: Eat spaghetti, for long life!

2. You'll be happy on your SPECIAL DAY! TIP: Smile though your heart is aching!

3. You'll have good health, good looks and good grades for the upcoming year! TIPS: Exercise for you to be physically and mentally fit! =)

4. Your family will be complete…Noemi, Jrizal and Bret! TIP: Treat them in your birthday..hehehe…(as if!)

5. You'll be sexy na…hahaha TIP: Mag SBD ka, as in SouthBeach Diet!

6. You can pass the Auditions for the Dance Workshop! TIP: Follow what I told you. Do my steps!

7. You and H***** will be happy na…TIP: Ligawan mo pre!

8. And… you won't be confused about your feeling towards V******. TIP: Have time to think, think and think!

9. You won't be sent to Macau! TIP: Better follow my dance step so you will certifiably be in! Hahaha!

10. You'll have a splendid summer with a lot of discoveries about yourself…TIP: Watch Discovery Channel!

11. You won't be _timer! I hate it! TIP: Enter the Nunnery!

12. You'll receive the gift you want from your parents! TIP: Tell them what you want!
13. God Will Bless You! TIP: No doubt! But please Pray! For the Forgiveness of Sins, for the redemption of the world! (Pwede na ba maging sister?)

14. Our tropa will be together forever! TIP: Gala tau always..hahaha..

15. Even though we're not there to celebrate with you happy ka pa rin. TIP: Have with you our picture!

16. All Your wishes will come true! TIP: No need, it will come! Love you!
Love you Mara! Hope that on this day you'll find tr