My "TRoPa"
Life wouldn't be that happy if my friends were not around. What I am right now is a product of all the happiness and hardships we had gone through. I owe a part of myself for them because I wouldn't be like this without them around. Although most of the time tawa lang kami ng tawa, okay parin kasi ang sarap nilang kasama. Kaya siguro ako baliw, malakas ang topak, kalog, maingay, tawa ng tawa eh dahil sa kanila. At syempre sa lahat ba naman ng ginawa nila para sakin dapat lang na may "space" sila dito sa blog ko! And to them, thank you and love you poh!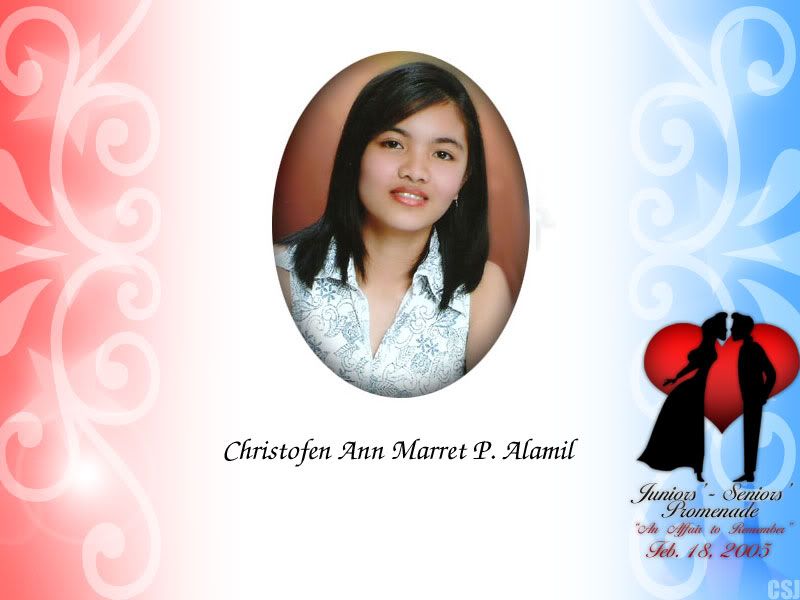 Christofen Ann Marret Posadas Alamil: She was my classmate in first year. But she wasn't my tropa yet. It was a long story actually. Make it short? Not here at my blog! Ask them if you like. I don't know if they'd consider it confidential and I guess it's not my right to involve in their internal affairs. And the all the names involved here are also my classmates and my friends too.

But you know what? I love it when 2fen complains about her little mishaps. Especially when she feels hot. And when she feels wet. Hehehe. I ought not to repeat it again because I already wrote it as a testimonial on her Friendster account. Masyado ng bulgaran pag dito pa blog ko ilalagay! 2fen also serves as our mortal clock. When she arrives at our tambayan, asahan mo, magbebell na.
To Christofen, thank you for all the joys you brought us even if it was just a year. Mamimiss ka namin!