::Past Days::
May 28, 2005, Saturday
It was like reunion. It wasn't fun. It was marvelous!
It was my Uncle's Wedding at Cavite (forgot the place!) For the first time, I saw my cousins, Bambi, Len Len and ate Myla (not sure of the name and spelling!) also Tita Elvie and Tita Cecile. Their connection to me, in my own understanding is quite vague. Next. For a long time, I haven't seen Ate Janice and Kuya Don Don, same as Auntie Lily and Tito Edwin. In auntie Wowie, auntie Inday, Nicole and Rap Rap, I've seen them 6 days before, but only again this time since 2002. Auntie La, tito Elly, ate Apple, kuya Karl and kuya John, nah, I always see them.
At the garden (it was a garden wedding), we, the PRIETO (including Manalo)- TAN (including us, Valencia and Descalzota) clan, though a small crowd, looked big because we we restless at our own place. During prayers, we're having picture takings. It wasn't because we're rude and uncivilized that's why we did that, it's because it wasn't a Catholic wedding. But nah! It wasn't the the real reason, the truth is, we're already hungry!
At Banaba Cerca, follows another eating session. We we're at the bride's house. There was a Karaoke Machine. It was fun because the bride's uncle forced ate Myla to sing as well as ate Janice. It was only ate Janice who sang, ate Myla won't. My father also sang which made them roared in laughter:)
After that we went to auntie La's house, we ate dinner there and we had fun. That day was really a memorable one.
Reason why I didn't go online: I woke up 7 that time and can't afford to stay late at night.
Jing and I went to mall (SM SouthMall). I needed 2x2 picture for an application, that's why we went there. We both bought colognes at Penshoppe and Blue Magic and a cute slippers at Planet. After that we went food trippin' Ate a dozen of Li'l Orbits, some fries and drinks!
Reason why I didn't go online: I actually forgot, I think I've fallen into a deep slumber!
We went to UN Ave at 7 to fetch someone new to Manila. He was Gilbert. We lead him the way to ITCSI. At 9, we paved our way to Divisoria. We went with our auntie Wowie. That day was really tiring. Considering I woke up at 5 am, we went there from Las Piñas and we were walking all throughout! Then we went home with a heavy luggage! At home, we helped auntie Wowie to fix her things for her flight this day (June 1) going back to General Santos.
Reason why I didn't go online: Obviously, I'm sooo tired.
Again we went to mall. This time, with my mom. We bought some necessary things then she bought me a new flop. We didn't stayed long because we were to have visitors- my aunties, uncle and cousins who will go back to Gen. San. later (June 1 na kasi).
*If some pics are cutted, please bear with it. My template doesn't allow transparency.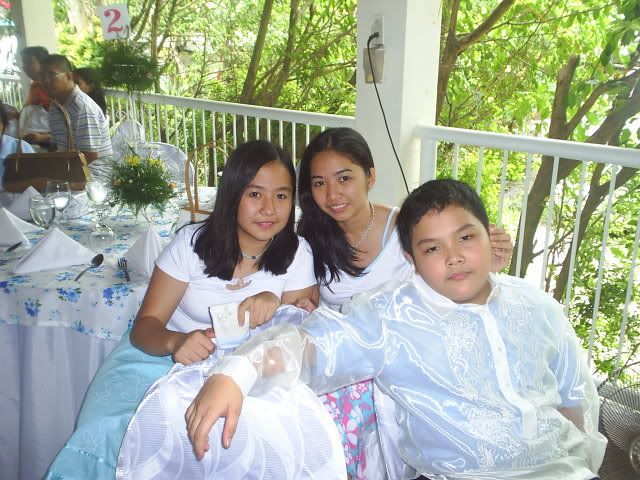 Jing (my Sis), Me and GBoy (my Bro)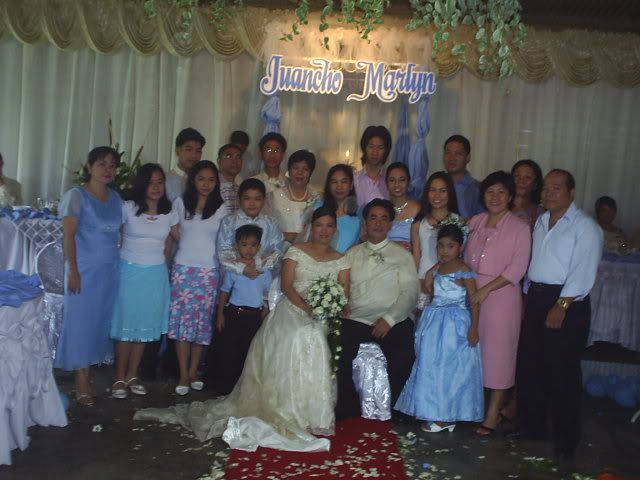 Our side of the family with the bride and groom
Ako yung Jasmine Trias Effect!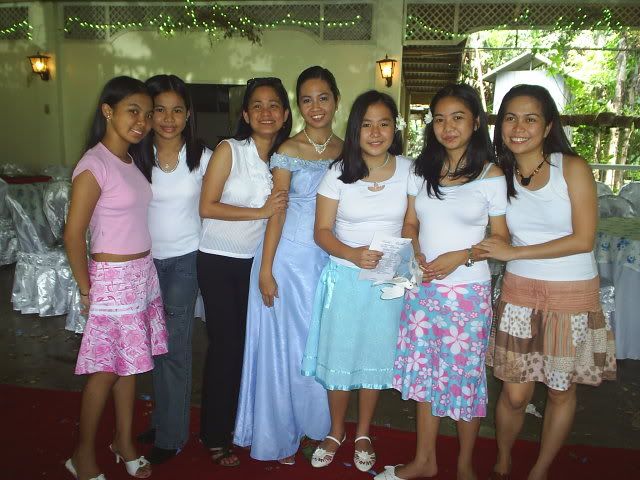 Len, Bambi, auntie Wowie, ate Myla, ate Apple, Jing, ate Janice and Me!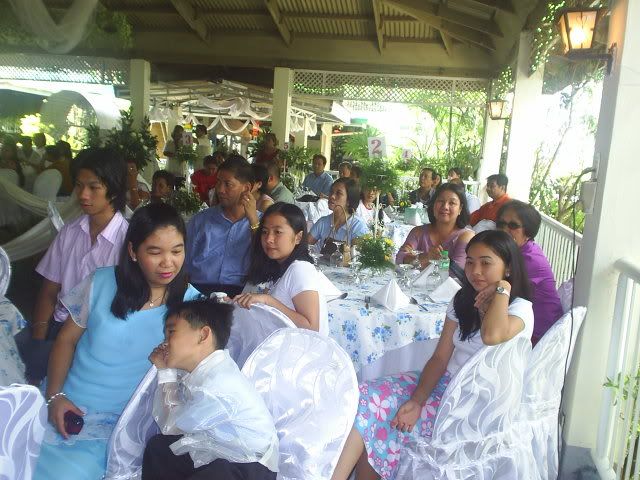 Ate Janice, Jing, Me, Kuya John and kuya Karl